Quick facts about Cristiano Ronaldo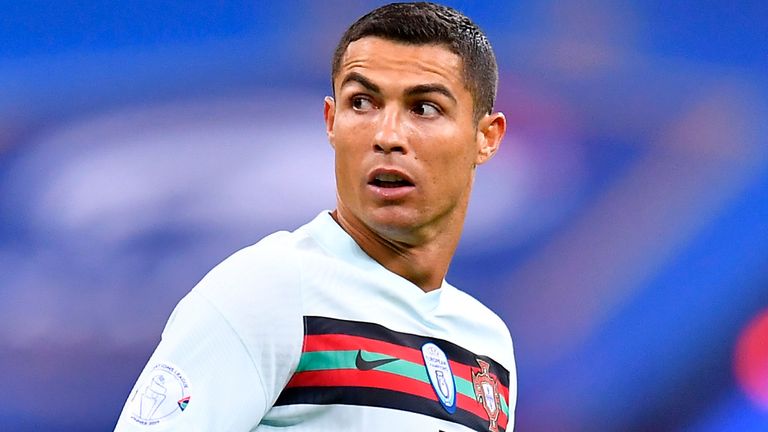 Full Name

Cristiano Ronaldo dos Santos Aveiro

Date of Birth

February 5, 1985

Place of Birth

in São Pedro, Funchal, Portugal

Age

35 Years

Nationality

Portuguese

Occupation

Professional football player

Marital Status

Engaged

Spouse

Georgina Rodríguez

Children

Cristiano Jnr.

Eve

Mateo

Alana Martina

Hair

Blonde

Eye color

Black

Height

6.2 Feet

Weight

81 Kg

Net Worth

$ 460 million
Who is Cristiano Ronaldo?
Cristiano Ronaldo is a renowned football player who has played for some of the world's biggest football clubs. Ronaldo is one of the most recognizable sports stars who since debuting his career at Manchester United has played for other big clubs including Real Madrid and now Juventus. The football champ is known to bring his fans to attention through his exciting playing techniques full of tricks, flicks, and excellent goals. 
Ronaldo can be rated as one of the most successful footballers in the world today. In his long football career the Portuguese football; has been a 4-time winner of the FIFA Ballon d'Or awards, has won four European Golden Shoes, has been a four-time winner of the UEFA Champions Leagues titles, and a one time winner of the UEFA European Championship. Ronaldo currently plays for Juventus, a Serie A club besides being a player of the Portugal National Team, Captains.
How Ronaldo's Early Life Like?
Cristiano Ronaldo was born Cristiano Ronaldo dos Santos Aveiro on the 5th of February 1985 in São Pedro, Funchal, Portugal. Ronaldo is the youngest child in the family of Dolores dos Santos Viveiros da Aveiro and the late José Dinis Aveiro. His mother worked as a cook whereas his father was a municipal gardener and a part-time kit man. Cristiano has two sisters namely Elma and Liliana Cátia and a brother named Hugo. Cristiano escaped abortion by an inch after her mother's doctor refused to carry out the procedure. According to his mother, she wanted to abort Cristiano on the grounds of her husband's alcoholism and too much poverty. Cristiano Ronaldo's childhood was not an easy one since he grew up in an impoverished room which he shared with his other three siblings.
Cristiano was passionate about football since he was a child and such, saw him play for an amateur team, Andorinha when he was just seven years old. His father was a kit man at Andorinha. Ronaldo, at the age of 12 played for Nacional for two years before he went on a three-day trial with Sporting CP who would later sign him in at a fee of £1,500. At the age of 14, Ronaldo was capable of playing semi-professionally and for this reason, he had to agree with his other to end his education and instead focus on football.
How Has Been Cristiano Ronaldo's Career?
Cristiano Ronaldo's career began at a young age whereby at the age of 16 he got signed to play for the Sporting CP's youth team. At Sporting CP, talented Ronaldo made history by being the first player in the club's under-16, under-17, and under 18 teams, the B team, and the first team, all within one season. After scoring two goals in his debut Primeira Liga match against Moreirense Ronaldo became an icon of admiration and up for grabs between the then Liverpool manager Gerard Houllier and the then Arsenal manager, Arsene Wenger in the 2002-2003 season. 
In 2003, former Manchester United manager Sir Alex Ferguson committed to signing in the then 18-year-old Ronaldo into the club making him the first Portuguese player ever to play for the club. His transfer to Manchester United was the most expensive teenage transfer costing the club 12.24 pounds.
During his debut match at Manchester United Ronaldo got a standing ovation after the team won 4-0 against Bolton Wanderers. In his first season at the English Football Ronaldo scored the opening goal against Millwall in an FA Cup final match that gave ManU a 3-0 victory besides receiving his first trophy.
His tremendous performance at Manchester United saw him win various awards the biggest of all being named as the first player to win all four main Professional Footballers' Association's Player's Player, the Football Writer's Association's Footballer of the Year awards 2006-07, as well as the Fans' Player and Young Player of the Year.
By the end of his career at Manchester United in 2009, Cristiano Ronaldo had won nine trophies, a foot league in May 2009, and three successive premier league titles.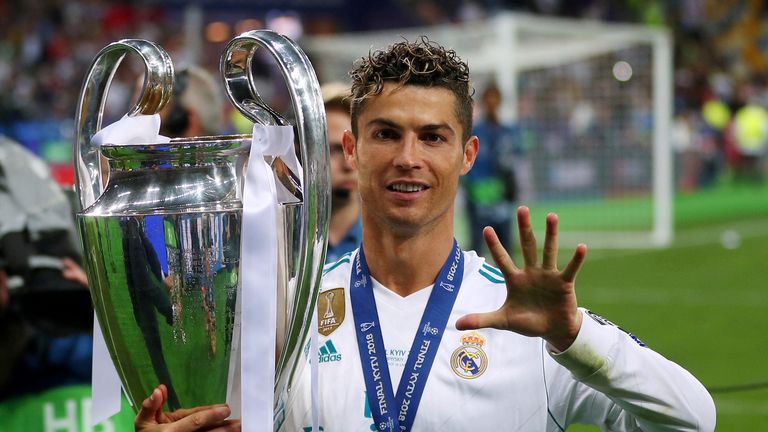 From Manchester Unite Cristiano Ronaldo got a green light to join Real Madrid in 2009 with his transfer being the most expensive at the time costing the club 80 million pounds. His outstanding performance continued at Real Madrid where he played for the club for nine years before joining Juventus in the summer of 2018. Alongside playing for the clubs, Ronaldo has been a player for the "Captains" the Portuguese National Team and played in many international matches including FIFA World Cup 
Who has he Dated?
Before meeting her current wife Georgina Rodríguez, Cristiano Ronaldo had previously dated two other ladies one being Russian model Irina Shayk while the details of her name remain concealed. In his first relationship, Cristiano got a son named Cristiano Jr. with the unveiled girlfriend in June 2010. While addressing the issue, Ronaldo stated it categorically that he was not going to reveal the identity of the mother but he would take full custody of the child. 
After dating Russian model Irina Shayk for five years, Cristiano Ronaldo announced their separation in January 2015. On June 8, 2017, Cristiano Ronaldo through surrogacy became the father of the twins, Eva and Mateo. Currently, Ronaldo is in a relationship with a former Spanish Georgina Rodríguez with whom they have blessed with a daughter named Alana Martina, born on the 12th of November 2017.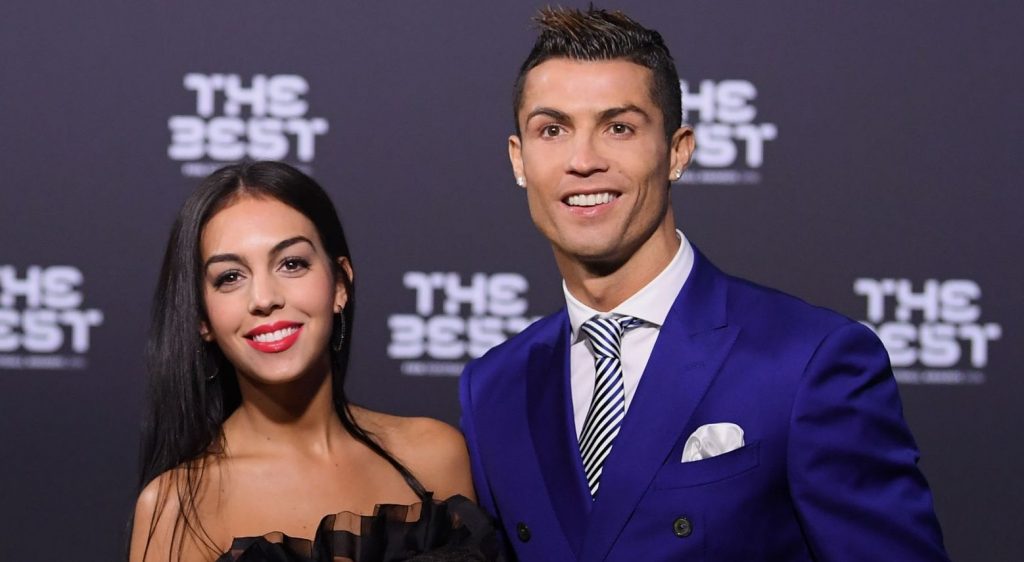 Also read: Cardi B Biography, Age, Career, Weight and Net worth
What about His Body Stats?
Cristiano Ronaldo has an athletic body shape with a decent height and weight. Ronald has a prestigious height of 6.2 Feet or 1.89 meters. The footballer has an impressive weight of 81 Kilograms or 179 Pounds. His eye color is black whereas his hair is blonde.
How Worth is Cristiano Ronaldo?
Most of his wealth comes from the lucrative football career that sees him stash some salary in his pockets.
He owns fashion boutique CR7 on the island of Madeira and Lisbon.
After taxation, Cristiano earns about $ 40 million in salaries annually which means he earns about $ 699400 weekly.
Besides football, Cristiano earns a lot from modeling, advertising, and endorsement deals.
He also earns a huge amount of money from his Instagram posts where according to the recent statistics he earns about $ 400400 per sponsored post.
What are Some of his Accomplishments?
In the 2003-2004 season, Cristiano Ronaldo became the first young player to play the euro besides playing vital roles in the subsequent wins by Manchester United in the FA Cup.
Cristiano Ronaldo is the record holder of the most goals and assists in the history of the UEFA Champions League after managing to score 134 goals and 41 assists.
He is among the few players who have made over 1000 professional career appearances.
Ronaldo has scored over 750 senior career goals for both his club and country.
He is the second player to score 100 international goals.
Ronaldo has been a four-time winner of the UEFA Champions Leagues titles and a one-time winner of the UEFA European Championship.
He has been a 4-time winner of the FIFA Ballon d'Or awards, and four European Golden Shoes as well.
What are some of the Interesting Facts about Ronaldo?
Cristiano's first goal at Manchester United was in the form of a free kick in a match against Portsmouth.
Following his 10 successful goals in 2005, FIFA awarded him Special Young Plater of the Year.
Ronaldo was the highest scorer in the qualifying matches for Fifa World Cup in 2006
He has never revealed the details of his eldest son's mother.
In 2005 he was arrested for allegedly raping a woman.
Cristiano has a strong inclination towards fruits.