Quick Facts about LeBron James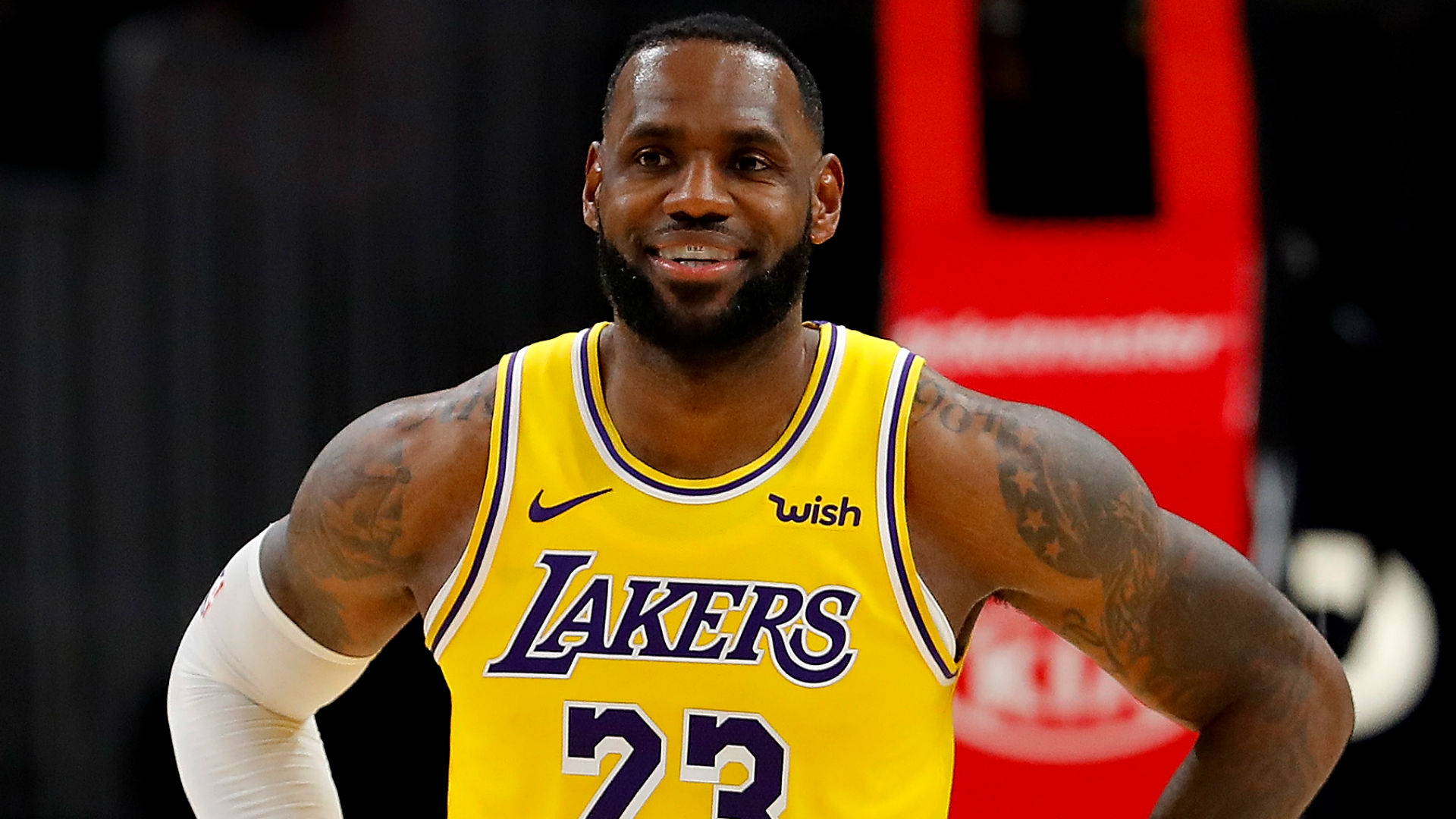 | | |
| --- | --- |
| Birth Name | LeBron Raymone James |
| Nick Name | L-train, LBJ, King James |
| Place of Birth | Akron, Ohio, U.S.A |
| Date of Birth | 30th December, 1984 |
| Age | 36 |
| Education | St Vincent-St Mary High School |
| Occupation | Professional Basketball player |
| Marital Status | Married |
| Spouse | Savannah Brinson (m. 2014) |
| Children | Zhuri James (b.2014), Bryce Maximum James (b.2007), and LeBron James Jr. (b.2004) |
| Height | 6.8 Feet |
| Weight | 113 Kg |
| Hair Color | Black |
| Eye color | Brown |
| Net Worth | $430 million (as of 2020) |
Who is LeBron James?
LeBron Raymone James is an American professional basketball player who has gone on the record as one of the greatest all-around players of all time. LeBron is remembered for leading Miami Heat in winning the National Basketball Association (NBA) championship in 2012 and 2013. In 2016 the basketball legend leads Cleveland Cavaliers to win the same championships before the same good history repeated itself while he played for Los Angeles Lakers in 2020.
How was his Early Life?
LeBron James was born LeBron Raymone James on the 30th of December 1984 in Akron, Ohio. LeBron is the only child of Antony McClelland and Gloria Marie James and was raised by his mother single-handedly upon the disappearance of his father soon after he was born. The basketball legend didn't have a particularly easy childhood since his mother struggled a lot to put food on the table. The family relocated from one place to another in search of a job as well as affordable residency.  
Lebron got introduced to basketball at the age of nine a family friend and a local basketball coach, Frank Walker. Ever since LeBron developed a unique liking for basketball, a passion that saw him excel in the got when he was old enough to play for his elementary school. He later joined St Vincent-St Mary high school where he continued playing basketball and before he could realize it, his super basketball skills had earned him the title, Ohio's Mr. Basketball. While playing for St Vincent-St Mary LeBron's basketball skills kept unlocking bigger and better titles and achievements for him. It was in the very days at high school that he made history for being the youngest person ever to join the USA Today All USA first team.
Even before beginning his junior year in high school, LeBron had already made appearances on the covers of the Sports Illustrated and SLAM magazine. This made him the first high school basketballer to appear on such avenues. Around the same time, LeBron was named the Gatorade National Player of the Year thereby going in history as the first junior to earn such a title.
Also read: Justin Bieber Biography, Age, Career, and Net worth
What about LeBron's Career Journey?
LeBron James' career traces its roots way back in the days he was a student at St Vincent-St Mary high school where he made headlines being the youngest ever to join the USA Today All USA first team. It was still in the days that the basketball star earned the title, Ohio's Mr. Basketball besides making appearances on the covers of the Sports Illustrated and SLAM magazine before.
It is also worth noting that LeBron James also played football for the St. Vincent-St. Mary's football team before ditching eventually ditching football for basketball.
It was up to until 2003 that LeBron James finally got selected to play for Cleveland Cavaliers. The selection placed him as the number one overall pick in the NBA draft. His first game at Cleveland Cavaliers saw him score 25 points in a match against Sacramento Kings leading him to the NBA's record in the category of the most points scored by a Prep-to-pro player before later in the year being named the NBA Rookie of the Year. The latter came on the merit of his average scoring of 20.9 points, 5.5 rebounds, and 5.9 assists per game.
LeBron's career at Cleveland Cavaliers can be said to have been successful since in 2004 and 2005 he earned his first NBA All-Star Game in Eastern Conference after scoring 13 points, six assists, and eight rebounds. Later on between 2007 and 2008 for the send time LeBron was named All-Star Game MVP upon scoring 27 points, 8 rebounds, and 9 assists.
The basketball idol later on in 2010 left the Cleveland Cavaliers for Miami Heat where he spent four seasons. During his four years at Miami Heat, LeBron James took the team to the finals four times in a row beside the back-to-back championship in 2012 and 2013. After his contract with Miami Heat ended in 2014, LeBron went back to Cleveland Cavaliers where he played for up to until 2018 when he joined the Los Angeles Lakers. Since then LeBron has been playing for the Lakers alongside players like Josh Hart, Brandon Ingram, Johnathan Williams, and Rajon Rondo.
Also read: Emerging details about Jeffree Star's plastic surgery
Who Has He Dated?
Before marrying Savannah Brinson, LeBron James is said to have had been in six other relationships. Out of the six, only four relationships are known. Previously the basketball star dated Carmen Ortega before dating Hencha Voigt. LeBron is also rumored to have dated Meagan Good as well as Amber Rose.
Currently, LeBron James is married to his high school sweetheart Savannah Brinson. After many years of dating, LeBron finally proposed to Brinson on the 31st first of December 2011during the New Year's Eve party. Two years later, on the 14th of December 2014 to be specific, the lovebirds walked down the aisle in San Diego.
The couple has been blessed with three children namely, Zhuri James (b.2014), Bryce Maximum James (b.2007), and LeBron James Jr. (b.2004).
What are Some of His Basic Body Stats?
LeBron James has impressive body stats with his decent height and weight being the basis of admiration by his 50 million-plus followers. The Lakers player stands tall an impressive height of 6.8 feet and a weight of 113 Kilograms. LeBron has a brown eye color and short black hair.
What is LeBron's Net Worth?
As of 2020, LeBron James' net worth is estimated to be $ 430 million.
Most of his wealth comes from his professional basketball career.
Besides, the basketball star has invested heavily in real estate where his Brentwood investment averages $23 million.
LeBron James also bags a lot of income from his endorsement deals with brands like Coca-Cola, Nike, McDonald's, and Samsung among many others.
The basketball idol adds a lot of balance to his accounts through his appearances on commercials and print media like Nike, Sprite, and Glaceau's vitamin water among other appearances.
What Has LeBron Accomplished?
In 2014 LeBron James became a four-time NBA Most Valuable Player. LeBron won this award twice while playing for Cleveland Cavaliers and twice while he played for Miami Heats.
He has twice won the Olympic gold medals, in 2008 and 2012.
He was the first NBA player to score 100 three-point shots.
He has been a two-time NBA champion for Miami Heats. (2012 and 2013).
He was the youngest basketball player in history to be named NBA Rookie of the Year at the age of 19 years.
LeBron was the youngest basketball player to be awarded All-NBA honors (2004–2005).
He is also the youngest basketball player in history to be included in All-NBA first team.
LeBron is one of the eight NBA players to win 3 MVPs.
What are Some Laser Known Facts about LeBron?
After completing his third year in high school, James petitioned to have the NBA allow him into their draft even before completing high school.
LeBron is an ardent Democrat who donated $20,000 in support of Obama's Presidential Campaign.
At St Vincent-St Mary high school LeBron played football alongside basketball and he excelled in both sports.
Also read: Details about Selena Gomez's plastic surgery